Cabinet Makers Custom Built-in Bookcases
SERVING
The Entire Philadelphia and south new
jersey Counties
INTEGRITY, RELIABILITY AND CUSTOMER SATISFACTION
This beautiful cherry wood bookcase was prefabricated at
my woodworking shop and installed by me as a partial
home office renovation project in Yardley, Pennsylvania.
Each of the solid wood raised panel doors conceals plenty of
heavy duty adjustable shelving and will store lots of home
office supplies with ample room to spare. The tabletop is
made up of one and half inch solid cherry wood, which easily
supports the massive adjustable bookcases above. This
beautiful and elegant bookcase was custom sized and fits
snuggly between two16' walls without any gaps and with the
top shelf header tied to the ceiling with a large 5 inch cherry
wood crown molding. The entire bookcase unit was sprayed
with a high resin high gloss lacquer which will give years and
years of long-lasting protection and beauty.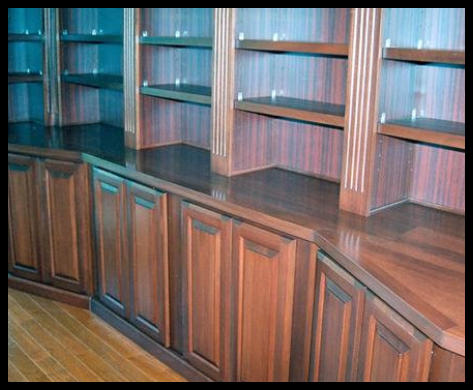 As shown in this next picture of this elegant solid cherry
wood bookcase, the attention to detail that the customer
wanted was achieved in their home office renovation
bookcase project. Please note the tight fitting gapless seams
on either side and the 5 inch solid wood cherry crown
molding tying the shelf header face to the ceiling. Both
lower sides of this massive cherry wood bookcase are
designed at 5° angles which incorporates a more stylish
beauty and are characteristic of the customer's taste and
style. The base molding for this library style bookcase
project was installed at a later date so it could be set on top
of their newly installed solid wood tongue and groove
flooring for that professional look.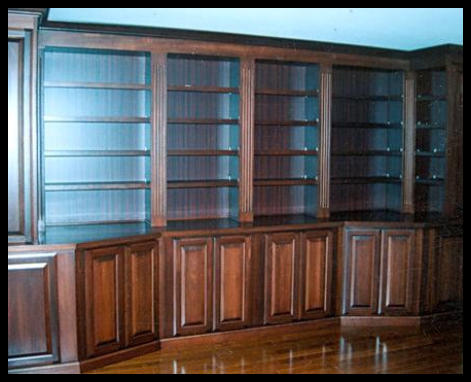 The solid wood maple built-in bookcase in this picture was
designed by a Queen's Village Center City Philadelphia
business person who desired an old fashion library style
bookcase. This particular customer knew exactly what he
wanted right down to the old-fashioned library style rolling
ladder. This bookcase was built in the living room against
the back L-shaped walls and it is at the perfect viewing angle
from their sitting and entertaining area. As requested by
the customers their existing 12' high ceiling was brought
down to a level that accommodated this maple bookcase
height while still leaving ample room for the large over sized
7 inch crown molding that superbly ties in this gorgeous
bookcase to its neighboring ceiling. The matching maple
rolling ladder for this bookcase can be easily adjusted and
stored closer for more floor space and easy cleaning.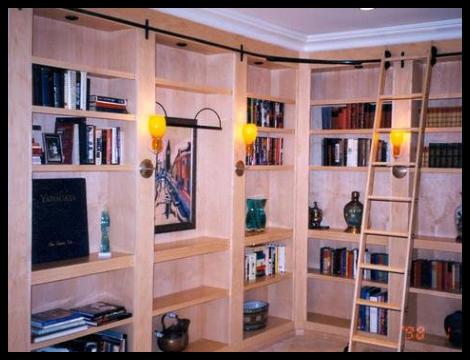 This maple bookcase also boasts three decorative wall
sconce lights complete with a dedicated dimmer switch. The
painting in the center of the bookcase has an independent
halogen lamp which highlights the artist's beautiful
rendering in this elegant painting. Above the top shelves, in
the header, there are five flush surface mounted hockey
puck style halogen lamps with their own dedicated dimmer
switchs. There are several coats of built-up clear satin
lacquer sprayed on while leaving this beautiful maple
bookcase's unstained natural beauty showing through. The
3/4 inch maple solid wood shelving for this library style
bookcase are completely adjustable and are faced off with
both a 1 1/2 and 3 inch solid maple fluted profile and while
adding strength and long-lasting durability.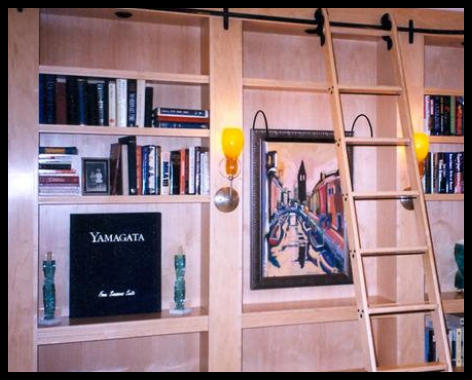 Bookcase Video Link
​Beautiful West African Sapele hardwood. This stunting
bookcase and fireplace paneling with mental was custom
designed with the customers ideas and approval. The deep
reddish burgundy Sapele wood was treated with a
mahogany hand rubbed oil wood stain and finished with
multiple coats of high resin lacquer which will protect these
high quality woodworking products for lifetime. The
bookcase was treated with dimmer controlled LED lighting
and is activated by a remote control or wall switch.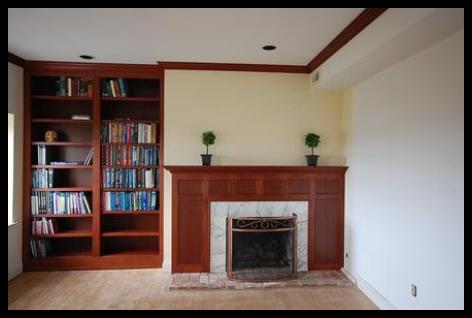 This grand 20 foot wide by 54 inch high three piece portable
bookcase was built according to the customer exact
specification. The ash wood of this bookcase was treated
with a gray stain which gave it it's beautiful pale green look
and just what the customer desired. The customer was very
specific that the top of the bookcase would be treated with
vertical fluting and rosettes that mirrors her childhood
bedrooms furnishings. This beautiful three piece design
comes equipped with adjustable shelving and a finish
tabletop. Portable Ash Bookcase Video Link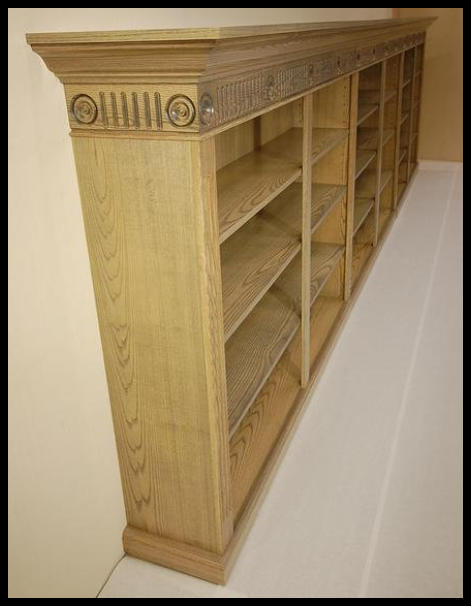 This massive cherry wood fireplace surround bookcase
stands 13 feet in height and has a width of 10 feet. At the
bottom of this cherry wood bookcase are ten five piece
raised panel doors with self closing European style hidden
hingens. The door bank at the bottom of this beautiful
cherry wood bookcase is set out approximately 10 inches
deeper than the front of the bookcase towers giving the
solid black granite fireplace hearth extra room while adding
more workable counter space on either sides of the
bookcase towers. This cherry wood bookcase was
manufactured by me and installed for a Queen's Village
Center City Philadelphia businesswoman who had two
purposes in mind for her bookcase project. She wanted a
beautiful fireplace surround bookcase to complement her
living room and while squaring off this oddly shaped area of
her living room. As you can see in this picture, the black
granite hearth and top crown molding are set at 30° angles,
joining this bookcase unit to the neighboring angled walls.
This 30° angle was also carried throughout the wall sides of
this cherry wood bookcase and also served as a perfect way
to anchor this bookcase unit to the wall studs.
This next picture gives a better idea of the challenge these
angled walls presented to the design and construction of
this rich and elegant cherry wood bookcase. Certain steps
were made before construction was started for this
bookcase so it could achieve the character it now
possesses. Templates had to be made from quarter inch
plywood copying the existing wall angles at the bottom
portion of the walls, then the middle sections and lastly the
top section. By using fixed plywood templates to copy the
wall angles, construction for this bookcase, or any other
bookcase project, can be completely accomplished and
without worry or revisiting the project site.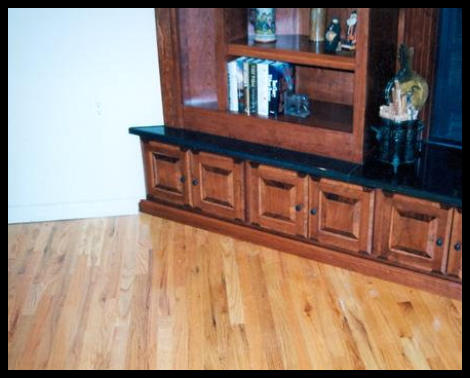 This picture depicts the massive size of this cherry wood
bookcase as it dwarfs the customer's existing entertainment
center. One of the customer's demands was that the
stained and lacquer finish for the newly installed fireplace
surround bookcase would match her existing cherry wood
entertainment center. This match was achieved with spot on
perfection. The flash on the camera in this picture really
makes the lacquer finish pop, but in natural sunlight or
room lit conditions you can really appreciate the smooth
hand polished satin lacquer finish over a dark cherry stain
making this high-grade cherry wood bookcase a real
compliment to anyone's home.
This Yardley, Pennsylvania customer wanted a small oak
bookcase that would match her oak fireplace mantel and
tongue and groove flooring. Since the customer already
liked her oak wood fireplace mantel and flooring she was
equally happy with her decision for adding this beautiful
bookcase to her home. I also installed a matching raised
panel end covering on the bookcase which is a perfect
duplication to the fireplace's three raised panels. The
crown moldings were easily matched and milled in my
woodworking shop and installed with a solid oak tabletop.
The Yardley customer was completely delighted with the
final results in the matching of her new oak bookcase to her
existing fireplace mantel and floor.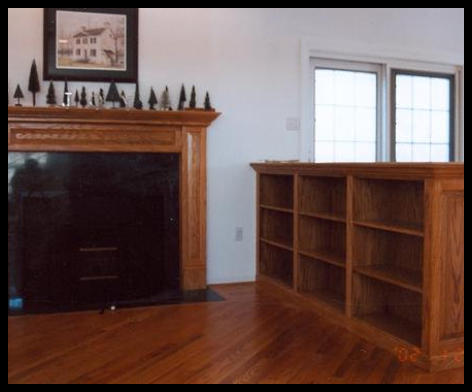 The wall end of this oak bookcase was secured and attached
to the wall studs with eight hidden screws. The bottom of
the bookcase was attached with twelve heavy screws driven
at 45° angle into the flooring and anchoring it securely. After
the bottom of the bookcase was secured to the flooring, an 4
inch oak base molding was applied hiding all of the fastening
screws while acting as a beautiful decorative bookcase trim.
The bookcase was built with non-adjustable three-quarter
inch solid plank shelving and by doing so adds integrity and
strength to this semi-freestanding bookcase. This bookcase
also includes a beautiful oak solid wood three-quarter inch
backing which is mechanically fastened for extra strength to
the shelving and vertical supports and is equally attractive
from either side.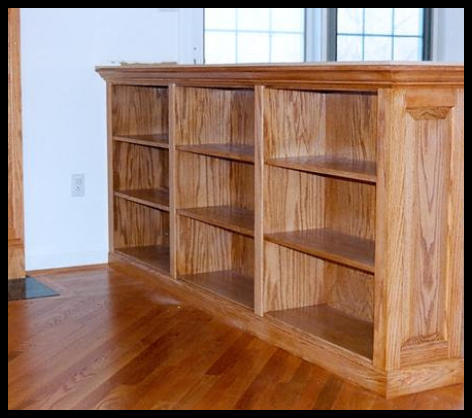 This cherry wood built-in bookcase was built for a business
woman who lives in Cherry Hill, New Jersey. She has a small
home office situated on the first floor next to her living
room. The home's builder and architect designed this part
of the house with a wall setback that was perfect for this full
height built-in cherry wood bookcase. The size of this built-
in bookcase is 50"x96"x20" which will give the home owner
ample room for all of her home office storage needs. The
home owner and I designed this bookcase to include a very
useful electrical outlet situated in the back panel third shelf
up. We also included two wall sconce lights placed at the
header with a dedicated dimmer switch located at the
entryway to the home office. All the shelves are fully
adjustable except for the fourth one from the bottom as the
right-hand bottom corner was designed to accommodate
the customer's newly purchased drawer bank from Pottery
Barn. The shelves in this bookcase are all three-quarter inch
solid cherry wood with a 1 1/2 inch fluted nosing. The
moldings on each side are 6 inch wide and also fluted and tie
the bookcase to the side walls without any seams or gaps.
There is a 4 inch matching cherry wood crown molding tying
the top of the built-in bookcase to the ceiling leaving this
unit with a clean finished look. This bookcase was finished
with a light coating of cherry stain, just enough to show off
the wood's natural beautiful grains. The entire unit was
sprayed with a high resin satin lacquer to seal in its elegant
beauty for years of lasting protection.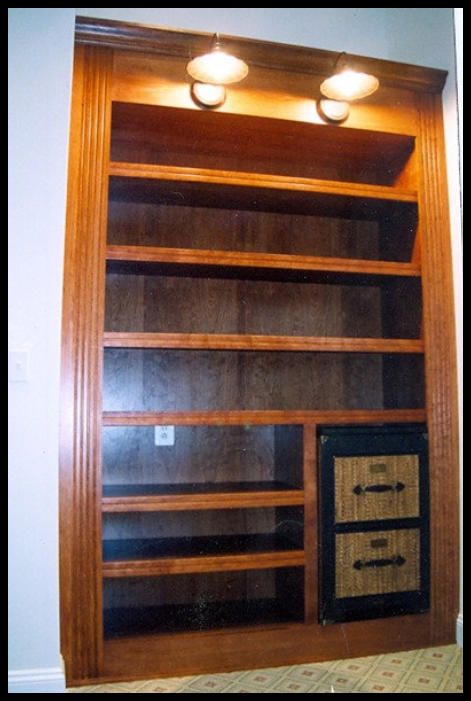 This beautiful oak fireplace surround bookcase with its
towering bookshelves on either side really brought this drab
and dreary fireplace back to life. The Yardley, Pennsylvania
customers did not want to have a basic fireplace mantel
installed as they discovered a different way for their home
remodeling project needs. So, a fireplace surround
bookcase complete with traditional mantel was custom built
and installed by me in their living room. This fireplace
surround bookcase was designed with a style giving the two
end bookcase towers their own placement platform on the
brick fireplace hearth and rising up just before the ceiling
allowing the beautiful 4 inch colonial oak crown molding
cresting this gorgeous fireplace bookcase. The customer
requested that the shelves would be fixed in place and
would also accommodate most any size books while keeping
in mind taller objects and decorative pieces. This fireplace
surround bookcase was installed unfinished as the
homeowner wanted to take on the project of staining and
polyurethane finishing for this attractive bookcase project.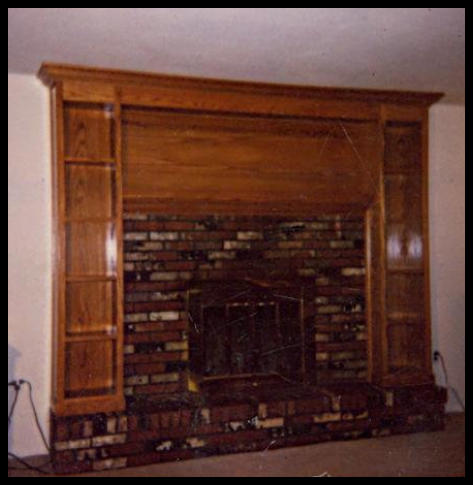 This absolutely gorgeous and studying black satin bookcase
was constructed and installed for a family that lives in
Voorhees, New Jersey. The customer knew exactly what he
wanted because he always thought to replace his store-
bought bookcases that really never met his needs. The
customer always had a vision of exactly what he needed but
he knew it could never be achieved except through hiring a
custom cabinet maker for the manufacturing and
installation of his bookcase ideas. This bookcase was
seamlessly manufactured and installed without any cracks
or crevices while giving the customer complete satisfaction
of fulfilling his plans and ample space for his many
comprised books over the years.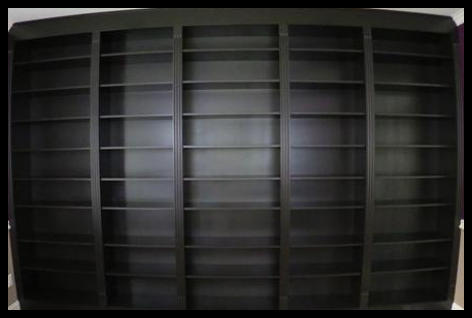 The black satin high resin lacquer furniture quality finish will
last for many, many years and always be smooth to the
touch and leaving a reflective attractive shine. The shelving
is adjustable on 1 1/2" increments while being hidden by the
beautifully sculpted triple bead fluted moldings. The
bookcase size is 14' x 9' x 14" with 12" shelving leaving ample
room for deeper books. The bookcase is blended to the floor
with its own matching base molding and for the top a
matching flat header band complaining its library bookcase
look. The customer is well pleased with its ample room and
capacity that met their needs.
Bookcase Video Link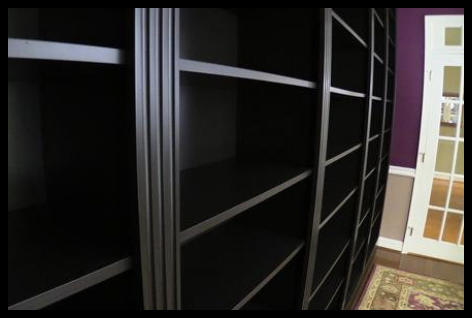 The customer had two niches in the rear of their living room.
Cabinet Makers Custom Built-in Bookcases manufactured
and installed this beautiful bookcase and matching secretary
style unit with bookcase above.
The customer desired contemporary style bookcases to
match the decor of their home. This solid hard rock maple
bookcase and matching secretary style unit was chosen for
their beautiful Philadelphia Society, Hill home.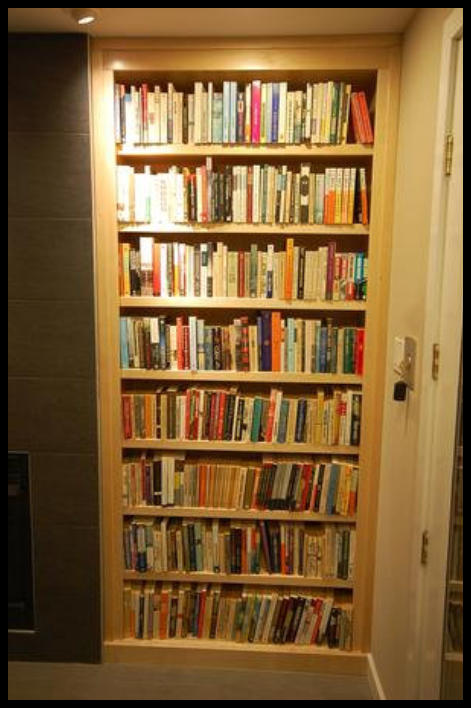 This beautiful matching secretary style unit is comprised of
solid lumber core cabinetry doors and drawer fronts. The
drawer boxes themselves are solid lumber core four corner
dovetail joints with beautiful highly polished nickel cabinetry
handles. The desktop is also made with solid lumber core
hard rock maple and matching the cabinetry door fronts and
drawers. The entire fronts of both units are made of solid
lumber core hard rock maple. The interior or carcass
including sides, tops and backing are built with ¾" and ½"
maple veneer core. Both units were finished with multiple
coats of high resin satin lacquer protective finish which will
add protection for lifetime.
Maple Bookcase Video Link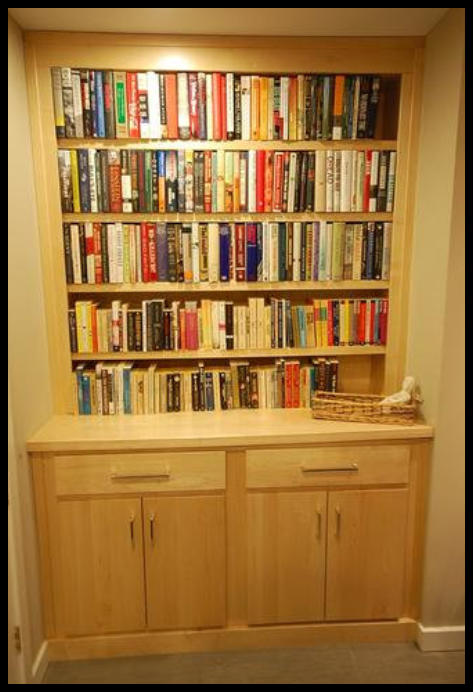 This beautiful white on white built-in bookcase is well suited
for this Old City, Philadelphia bedroom. The dimmable LED
lighting with wall switch cleverly illuminates the adjustable
shelving and also giving the bedroom another lighting
option. This bookcase was finished with a high grade
brilliant white acrylic paint which will endure a lifetime of
use.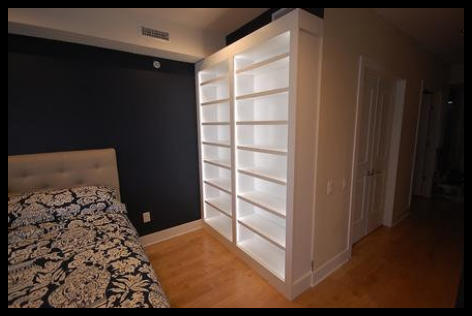 Reliability and product comprehension the working basic with
every project!!!
This gorgeous white on white hallway bookcase was
installed in a high-rise in University City Philadelphia. It is a
perfect fit for the 4 foot wide hallway leaving ample
walkway room. This bookcase was custom designed so that
it would fit snugly from floor to ceiling and building in empty
toe kick space for those hard to reach areas. The shelving is
non- adjustable which will keep an organize symmetric look
throughout. This beautiful bookcase was built with only the
best A-1 maple veneer core solid wood materials making
this project something that will last a lifetime and most
likely more.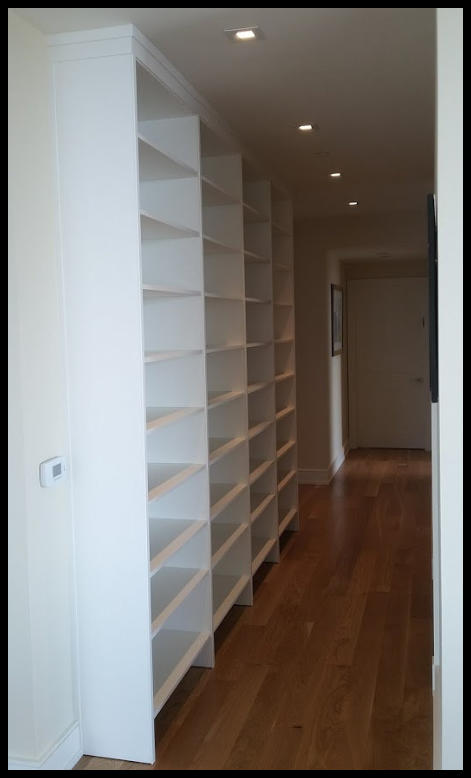 This impressive custom built-in bookcase with its beautiful
white on white lacquer finish was built for the perfect
Manayunk, Philadelphia family who knew exactly what they
wanted in a bookcase. This bookcase unit stretches 12 feet
wide and is snugly fitted under an 8 foot ceiling making it a
perfect built-in cabinetry project for their living room. The
customer for this project wanted adjustable shelving on 1
1/2 inch increments and large baseboard toe kicks and with
large top header matching the decor of their home. This
beautiful bookcase also comes equipped with 3 inch wide
vertical moldings which joins the bookcases seamlessly
together making it look like one total unit. All wood
materials for this project include A-1, 3/4'' and 1/2'' solid
lumber veneer core maple making it a woodworking project
that will endure a lifetime of rugged use.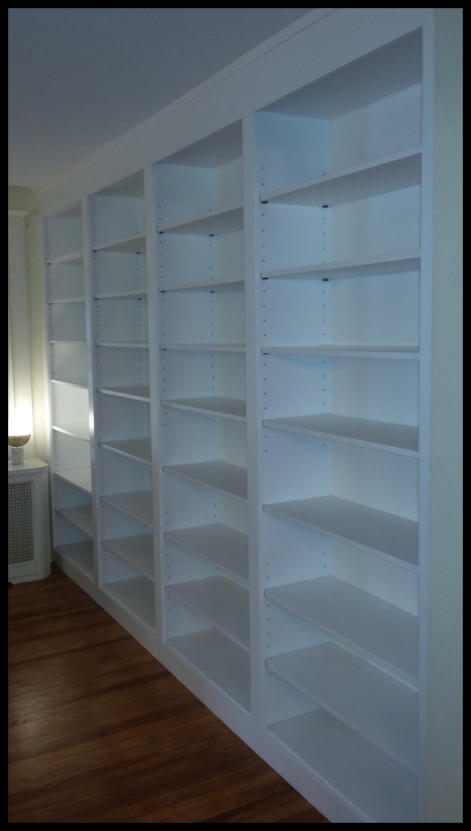 Copyright 2023 By Cabinet Makers Custom Built-in Bookcases
Custom Built-in Bookcases With Cabinetry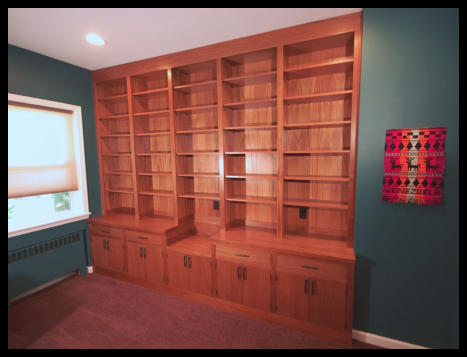 This magnificent sapele west African hardwood secretary
style bookcase was seamlessly installed in Elkins Park
creating a magnificent library for this beautiful home. The
bottom inset doors allow for double shelf storage behind
and withself-closing drawer boxes above. The tabletops are
solid 1 1/2'' thick with a step down in the middle for
electronic components. The bookcases above are all
adjustable solid 3/4'' adjustable shelving and with flat 2 1/4''
wide vertical mouldings out front that line up with the face-
framing on the underneath cabinetry. The top horizontal
header face frame board is perfectly aligned and seamlessly
tied to the ceiling. No wood staining was needed for the
beautiful west African sapele hardwood but only multiple
clear-coat finishes were applied for a lifetime of surfacing
durability.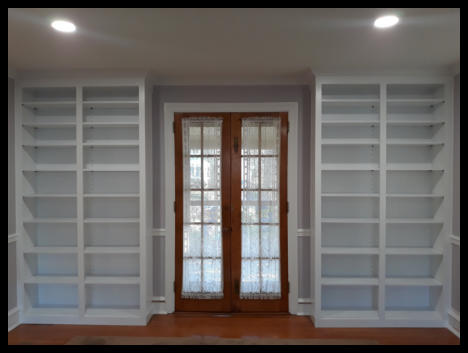 These beautiful twin bookcases were installed in
Jenkintown, Pennsylvania, and customized specifically for
the family's needs. Even though they are painted white only
the best materials were used behind the paint. The carcass
of bookcases which is the interior of the bookcase are made
from solid lumber core veneer plywood with a hard rock
maple veneer. All facing components of the bookcases are
made from stick lumber hard rock maple which will endure
exterior beatings for several lifetimes. Please take note that
the sides of the bookcases are of equal distances from the
center doors mouldings even though the wing walls are not
equally the same. Meticulous measurements were made
prior to manufacturing and compensating corrections
making unseen adjustments creating a pleasing look for the
homeowners.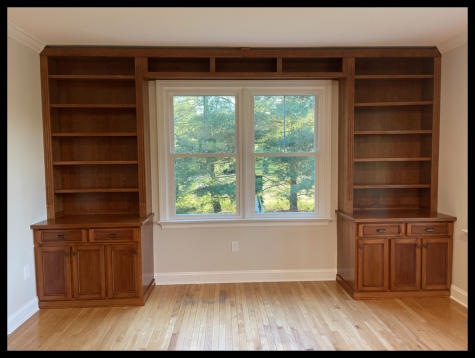 This beautiful domestic Pennsylvania cherry wood built-in
was carefully designed and perfectly centered between these
beautiful double-hung windows. The side-by-side cherry
wood secretary-style cabinetry with upper bookcases was
constructed only using the finest materials. The doors are
shaker style and accented with a 3/8'' bead moulding and flat
center panel look. The drawers is ⅝'' thick sides with dovetail
joinery and is offset to the lower doors creating a beautiful
and stylish look. The 1 1/2'' thick tabletop, knee sides, upper
bookcase sides, and shaker doors with its gorgeous triple
fluted mouldings are all made from stick cherry hardwood
lumber. The doors and drawers are mechanically fitted with
self-closing, self-closing hardware. Altogether making this
new cherry wood built-in an absolute complement to this
beautiful New Jersey home.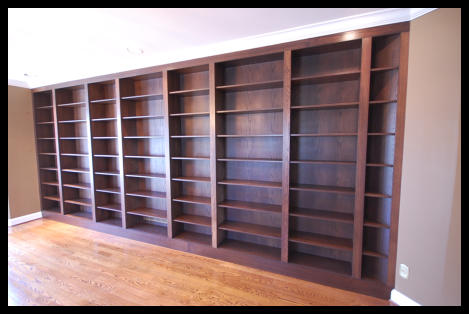 These custom red oak built-in bookshelves were designed
and built to create a custom library for this beautiful
Newtown Square, Pennsylvania home. This 21-foot wide by
9-foot in height home library boasts seven extra-wide tiers
of bookshelf space with a cleverly designed 45° angle
bookshelf on the far right for the little things. The book
shelving unit includes a 6 1/2 inch high base which means
bending over is easier for accessing the lower books and
while treating the library wall with 3 inch wide vertical
moldings and a 3 1/2 inch wide upper top facing blending
the existing rooms crown molding throughout and creating
a professional book shelving built-in library. The entire red
oak bookcase unit was treated with an oil rubbed dark
chocolate truffle wood stain creating an elegant and stylish
look for this custom build-in design.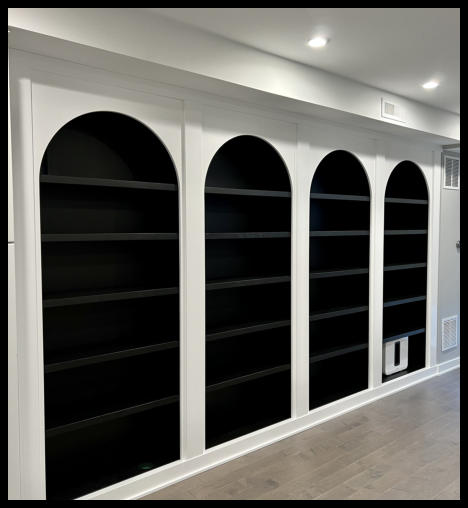 These beautiful and perfectly designed white-on-black
modern arched top built-in bookcases were seamlessly
made and installed for this beautiful home in Northern
Liberties, Philadelphia. The 14'X8'12'' built-in bookshelves
generously allow for this spacious four-tier design with the
roomy 1-1/2'' thick adjustable black finish over red oak
wood adjustable shelvings. The 4-1/2'' base molding is a
perfect match to the existing room's base moldings and
allows the massive brilliant white double-stacked stepped
vertical 7-1/2'' wide pilaster moldings to stand proudly.
This beautiful grand built-in bookcase system is precisely
what the customer wanted for next to their kitchen
cabinetry wall niche and giving their home the perfect
much-needed cozy atmosphereand they were looking for.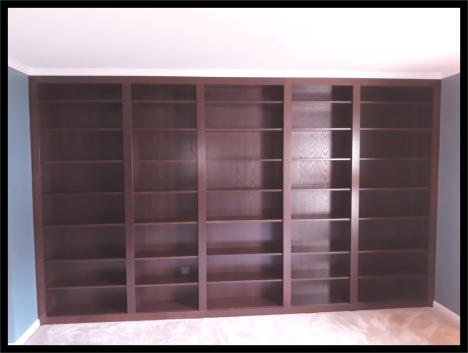 This absolutely stunning five-tier red oak bookcase is an
exact duplicate of the bookcase in the next picture above.
The Cherry Hill New Jersey customers knew exactly the
type of bookshelves, red oak wood and dark wood stain
color they wanted and found what they were looking for on
my website. They contacted me and brought to my
attention the bookcase on my website and asked me if I
could duplicate the exact style right down to the finish.
The customers are completely thrilled over the top and at
ease seeing the results and knowing that they have chosen
the right cabinet maker for fulfilling their dreams come
true. They're also very satisfied with the custom-built-in
and seamless installation of this gorgeous oak bookcase
with dark chocolate truffle wood stain and rockhard clear
coat finish.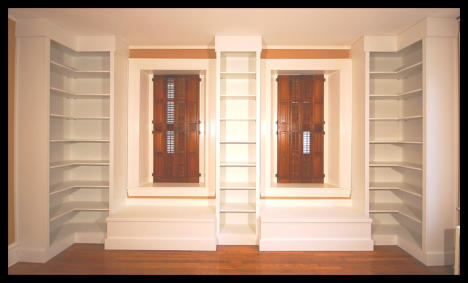 This gorgeous "L" shaped bookcase with its handsome
double window seats fits perfectly in this 9-foot-high
ceiling home library office. It is complemented with a 22-
inch wide center tower open fece bookcase matching the
surrounding shelving design. All the shelving is adjustable
in 1-1/2 inch increments making them compatible with any
book height the customer may find desirable. The high
baseboards and rising vertical mouldings compliment the
high ceiling faces bringing this bookcase design into
perfect character for this historical Glenside home. These
beautiful bookcases were treated with the highly rich
Snowbound White color and applied multiple coats and
creating a rockhard paint finish.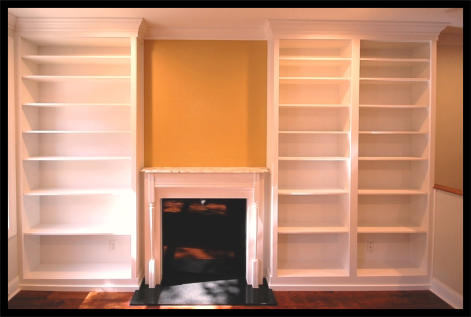 The Old City Philadelphia customers are pleasantly happy
with the outcome of their new and much-desired fixed
shelving bookcases for their beautiful home. Blending the
new modern-style bookcases with the existing fireplace
was a little bit challenging but we found a way to make the
transition acceptable with just the right mouldings and
with accurate measurements. The home had an existing
double high crown moulding with a back plate so creating a
high profile header face allowed ample crown moulding
room and created the perfect match as seen in the picture
to the right. The customers were a great help because they
meticulously measured their much-desired book heights so
creating fixed shelving was a breeze and a pleasure to work
with. These bookcases are finished with a rock-hard white
paint finish that will stand the test of time for many, many
years.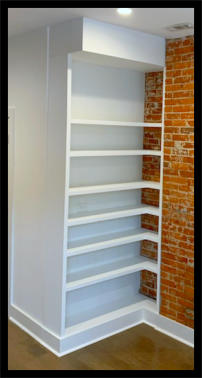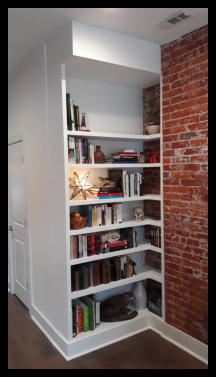 These before and after custom built-in book shelving
pictures exemplify how this particular Penn's Port customer
decorated her bookcases just after they were installed. The
bookcase design is "L" shaped 1-1/2 inch thick shelving and
sidewalls under a 9-1/2 foot ceiling. We matched the existing
5-1/2'' baseboard moulding exactly and managed to hide
the existing ceiling pipes with a square boxed head fascia
that also creates a perfect setting for the beautiful original
red brick party wall. There is an electrical outlet on the
fourth shelf with a lamp wire access hole above as part of
the customer's design. The entire built-in bookcase is
finished with a beautiful smooth-to-touch rockhard Extra
White paint finish that will endure the test of time for many,
many years. The customer is thrilled over the top and now
sees the reality of her dream bookcase which duplicates the
one in her previous home.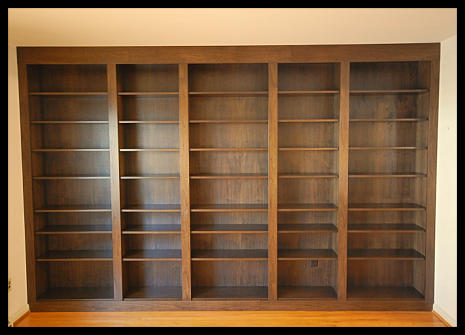 This beautiful or should I say elegant bookcase is made of
walnut which is a beautiful and rare domestic hardwood
and it is well suited for this beautiful Cherry Hill, New Jersey
home. The customer new exactly what they wanted
because their main goal was for me to match their existing
walnut bookcases which was a little bit of a challenge but
we made it happen and the customer is completely thrilled
over the top. Notice the custom measurements that
achieved consistent 3 inch wide vertical moldings from wall
to wall. Anything less would've been a miscalculation but as
you will see on my website I always achieve these goals and
that is always so pleasing to the eye. The bookcases have a
4 1/4 inch baseboard molding along with a 7 inch header
face molding that allows for the perfect built-in bookcase
look and allowing this beautiful walnut book shelving unit
to be its own entity that will proudly house this homes book
inventory.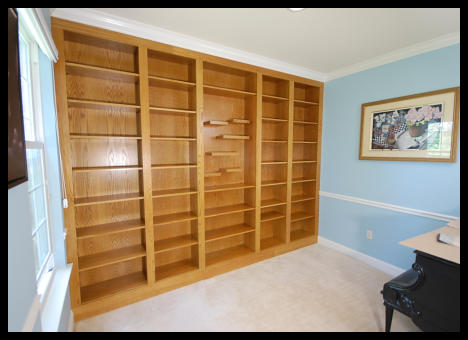 This absolutely stunning red Oak bookcase was specifically
designed by the Huntingdon Valley, PA customer with its
special 1 1/2'' thick floating shelving book center section.
The customer designed the 1 1/2'' shelving in a direct
manner that resembles their "L" shaped red Oak staircase
which is adjacent to their piano room. When I was building
the floating shelves in the shop I created certain reinforced
backing that cannot be seen from the front because this
bookcase system is now a part of the construction of the
home and the shelving must remain strong and enduring
for several lifetimes. The customer in the beginning was
worried because this is a dream bookcase for his retirement
and he wanted it done perfectly right down to his plans for
the special 1 1/2'' floating bookshelves that mimic their
beautiful "L" shape staircase. Needless to say, the
completed bookcase was way more than the customer ever
thought it would be and relaxed his anxiety and I the
cabinet maker created another happy customer!!!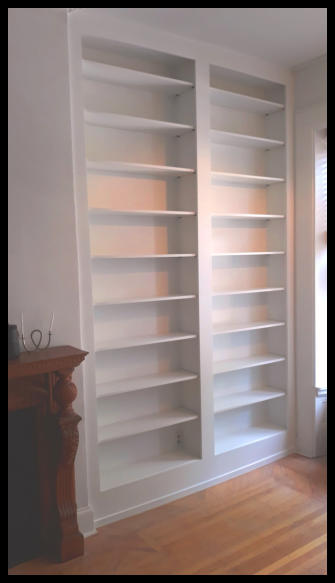 This beautiful twin 11-foot tall bookcase with its extra white
furniture quality paint finish is a custom-built-in and was
installed in this elegant Historical Fairmount, Philadelphia
home. The customers had a setback niche in their wall
adjacent to their front windows and they contacted me for
the construction and installation of this custom built-in
double wide bookcase unit. The entire bookcase is made of
solid veneer core hard rock maple wood and finished with a
rock-hard paint finish that will withstand the test of time. I
mainly took care of the design as the customer wasn't sure
how it should be designed but she knew she wanted a twin
bookcase filling the entire niche area. We exceeded the
existing 7-inch high baseboard by 3/4 of an inch and then
using 4-inch sides vertical mouldings and the center vertical
at 5-inches. Using wide vertical mouldings along with an
exceeding baseboard will always guarantee the perfect look
for an 11-foot ceiling. We crowned the bookcase off with a
5- inch fascia and then adding a 3/4 inch quarter round
moulding that was used to carry the existing ceiling plaster
beadwork. Even though the floors of this elderly homes
were not level the high 8-inch baseboard for this beautiful
bookcase makes the un-levelness of the floors un-noticeable.
The final outcome of this beautiful bookcase has exceeded
the customer's expectations and they are now filling the
shelves with their many books, pictures and flower vases.