Cabinet Makers Custom Built-in Bookcases
SERVING
The Entire Philadelphia and south new
jersey Counties
INTEGRITY, RELIABILITY AND CUSTOMER SATISFACTION
These functional oak built-in storage cabinets were built
and installed for a couple who lives in the Queen's Village,
Philadelphia area. The Center City couple had a storage
problem on their first floor and they wanted to resolve it,
but did not want the look of a basic storage closet in their
kitchen and dining area. They came up with an idea and a
drawing of a simple but stylish oak built-in storage cabinet
along with some open shelving, drawers and lots of doors to
stow away anything they would want out of sight but still be
easily accessible. The home owners designed this built-in
unit themselves and thought it would be a good idea to
incorporate a small entertainment center which houses a
television, DVD player and stereo as seen here.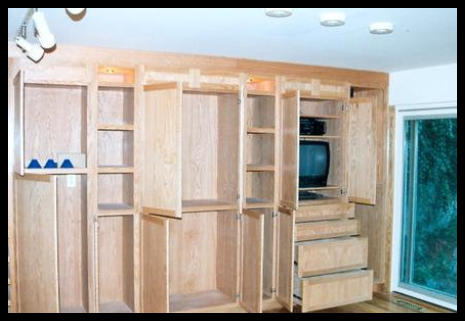 The customer requested shelving that would be adjustable
on 3/4 inch increments as space was tight for this small
built-in entertainment center and while keeping in mind
future components. Notice the small 7 inch high door
panels above the entertainment center and along the entire
top, (five in all). These operating doors flip up and hold
open to allow extra built-in storage for small things and
while using all available space. European self-closing
hidden hinges were used for this built-in storage cabinet
allowing for its smooth finished look. The customers
decided they wanted to keep their new built-in storage
cabinets as close to its natural red oak color as possible,
and since it was adjacent to the kitchen area. I suggested
using clear water based conversion varnish for the finish,
because conversion varnish is designed for areas where
water and moisture would be present.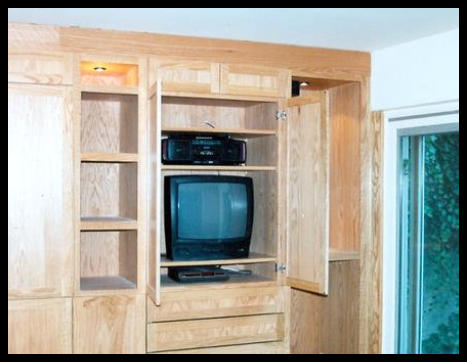 This beautiful custom built-in floating vanity is just what
the customer desired. The customer contacted me with
her ideas and drawing and wasn't sure if she could find a
bathroom vanity that would fit in between her two
bathroom walls. I assured her that as a custom cabinet
maker I could easily fulfill her bathroom vanity wishes. We
designed this beautiful five door with three drawers built-in
bathroom vanity and with a conversion varnish over white
that will tolerate the damp bathroom environment.
Needless to say the customer was thrilled over the top with
her new wall to wall floating bathroom vanity.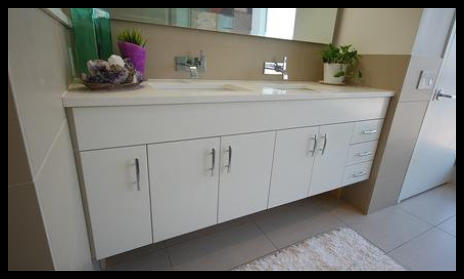 Here is another fine example of a custom built kitchen sink
base cabinet. The customer contact Cabinet Makers
Custom Built-in Bookcases and wanted to know if it was
possible to make a one piece 60 inch wide kitchen base
cabinet for a odd area in her kitchen. She wanted a one
piece cabinet as shown above but with a trashcan pull out
on the right side. She also wanted the cabinet to match
her existing kitchen cabinetry so we made the maple
kitchen base cabinet doors to match including the flush
mount face framing doors exactly. This cabinet was
installed up against a wall with a heater vent so we
installed an air duct and venting underneath the cabinet to
accommodate.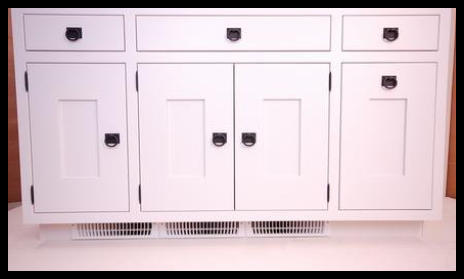 This maple tabletop style headboard was seen in a
magazine by a Queen's Village Center City Philadelphia
customer and wanted to know if I could duplicate it. Since
the magazine's picture showed good detail, it was easy to
estimate size and scale. For instance, there is a three-
quarter inch countersunk slot which was approximately 3
inches above the bed surface and 10 inches below the
tabletop surface. The two pull out shelves on either side
needed to be located 3 inches away from the bed sides in
order for them to be functional. The total height of the
headboard would be figured out according to the existing
bed's heights. By recognizing these basic facts the
measurements came easily.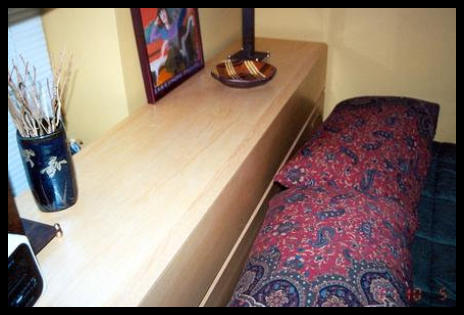 This picture illustrates the functional 18 inch extra deep
tabletop headboard that can be easily cleaned and serves
very well as a large nightstand. Notice the 1 inch wide 45°
bevel edge that runs continuously around the top edge
perimeter of this beautifully finished table top headboard.
This headboard was built by using high quality Hard Rock
Maple wood and was planed and sanded with extremely
fine sandpaper for a high quality ultra smooth lacquer
finish. The customer was extremely satisfied with the
product and just as satisfied in the timely manner it was
manufactured and installed as this headboard was a
welcome home gift for his daughter returning from college
on summer break. Products like this headboard and all of
my cabinetry and bookcases can be easily manufactured in
my fully equipped cabinet making shop at your request.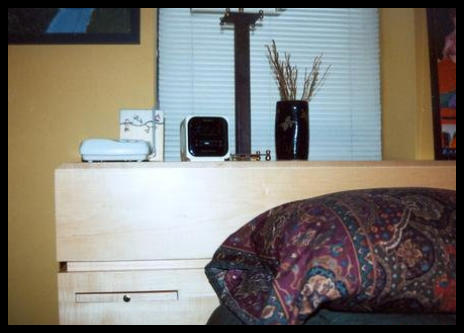 This extra wide maple his and her's double bowl bathroom
vanity was constructed for an Queen's Village, Center City
Philadelphia customer who desired more vanity space for
their newly renovated bathroom. This custom maple
bathroom vanity was designed with solid wood flat panel
doors, European-style self closing hidden hinges and
adjustable shelves that stores lots of items out of sight but
readily available. The flat panel vanity doors are easily
opened and held closed by magnetic touch latches. The
home owner can keep the counter top clean and easily
maintained thanks to the help of two under mount vanity
sinks that are positioned and attached under the vanity
top, (hence the name under mount sink.)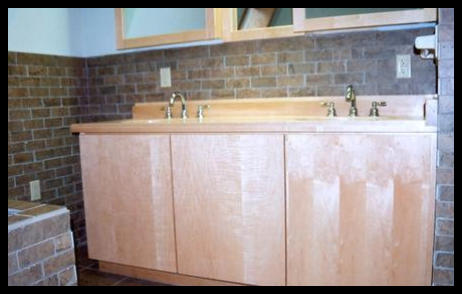 This elegant and stylish cherry wood bathroom vanity and
the adjoining eight-foot tall side storage cabinet were two
of the main pieces for this high end Mainline Montgomery
County bathroom. The Mainline customers wanted their
bathroom cabinetry, mirror frame, light bar, crown
moldings and corner wall shelving to be made from high
quality solid cherry wood and to match consistently
throughout their newly renovated bathroom. The doors
and the mounted wood scrawlings that helped make up
this exquisite bathroom vanity and the side storage cabinet
were actually copied from a magazine picture that the
customer had and wanted to duplicate throughout her new
bathroom design. The cabinetry doors are operated by
European style self closing hidden hinges and are open
with Gothic style antique brass "D" handles. The bathroom
vanity and the neighboring side storage cabinet are
designed with deep, wide spacious adjustable shelving. As
illustrated in the middle picture you'll notice the deep
warm 4 inch cherry crown molding continuing a-top the
wall's porcelain tiles as it crest the entire bathroom's ceiling
perimeter. All the cherry wood for this bathroom cabinetry
renovation project were enriched with cherry stain and
finished with multiple coats of satin conversion varnish
embracing the woods natural beauty for countless years to
come.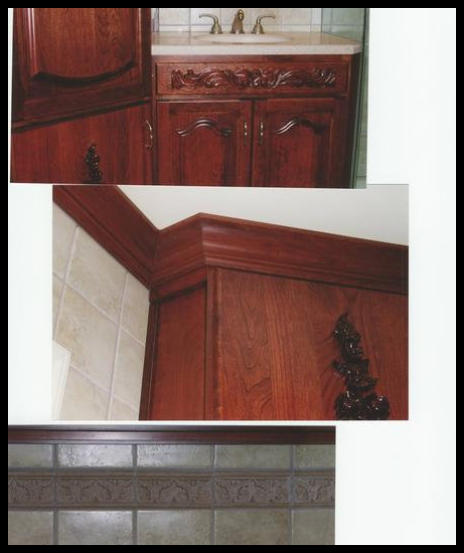 Interested in treating your hallway with a new look. The
customer of this beautiful Center City Philadelphia home
desired real wall paneling. She wanted the wall paneling to
be the same height as the entry door and stretching the full
16' depth of the hallway. We treated the paneling with
double raised panels while keeping 4'' spacing between. The
paneling was also treated with a high baseboard, sectional
end molding and a spacious top molding. The top molding
of the wall paneling was designed with a stop notch so that
the customer could stand picture frames from. This
beautiful wall paneling was finished with a high grade
brilliant white acrylic paint which will endure rugged use for
a lifetime.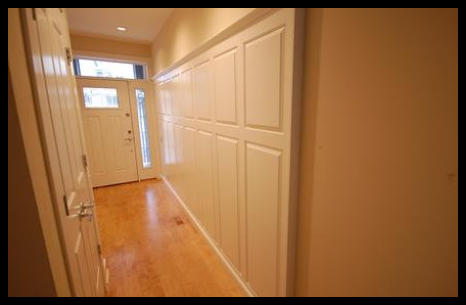 Integrity and quality control is the heart of every project!!!
This beautiful oversized combination entertainment center
with storage was the perfect fit for this cozy Old City
Philadelphia home. The ceiling is an unusual 12-foot in
height, which made the ample storage so convenient in the
wall niche for this mission-style solid wood cabinetry
system. The lower cabinet includes mission-style doors with
self-closing hinges while centered above self-closing
drawers for lots of storage. A beautiful highly polished 1 1/2
inch desktop was included with wrap around walls and
ceiling making it a perfect niche for the oversized flat screen
TV. An 8-foot Putnam Rolling Ladder system with polished
nickel rollers and track was included to gain access to the
ample storage above. The customer included in the building
plans a 16" x 12' open face adjustable bookcase shelving
unit to the right of the entertainment center for extra
needed storage.
This beautiful home entertainment center with its
convenient remote-controlled fireplace makes this
impressive Wynnewood, Pennsylvania condo even more
cozier than it was before by far. The customer knew exactly
how he wanted the secretary style cabinetry to be laid out
but wasn't sure about the type of cabinetry doors that
would suit best since the kitchen cabinetry was next to the
left wall. I suggested that he should not attempt to match
the kitchen cabinetry doors to the new entertainment
center because it would look like the kitchen would be
extended into the living room. I made a mission-style
cabinetry doors sample but with a beaded inside molding.
The customer liked the idea, and we integrated the new
mission-style doors in the plan and creating a sensational
one-of-a-kind home entertainment center making the
customer completely happy.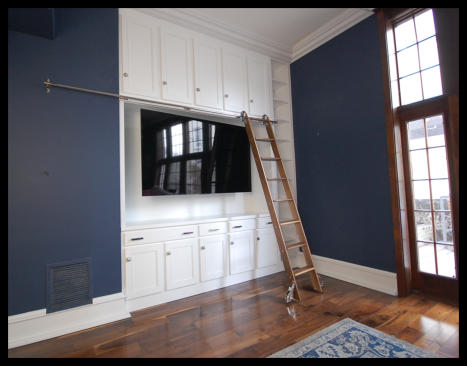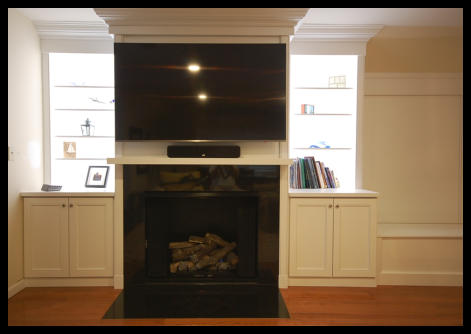 Something simple!! The customer wanted a cherry wood
pedestal for her statue that she just recently purchased.
She wanted an attractive cherry wood grain, so I then put
this together using a mahogany wood stain and finishing it
with a multiple clear coat lacquer. It was exactly what she
wanted to display her beautiful piece of art work for her
contemporary living room.
Custom Built-in Cabinerty
Copyright 2023 By Cabinet Makers Custom Built-in Bookcases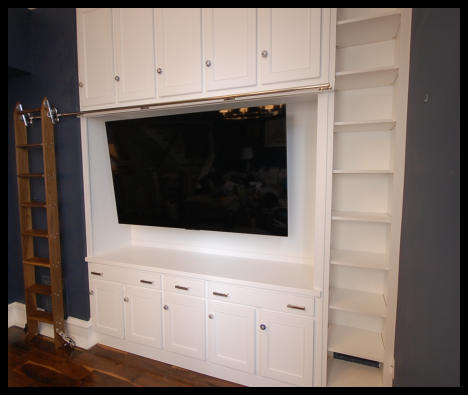 Part of the design for this custom built entertainment
center was to include an extra-long rolling ladder track so
that the ladder can be stored out of the way and close to the
wall. Cabinet Makers Custom Built-in Bookcases only uses
the highest quality materials for every cabinet making
project. Even though this is a white paint grade project, only
solid veneer lumber core 3/4 and 1/2 maple wood material
was used. Maple wood is always a primary choice amongst
professional cabinet makers. Maple wood is highly
considered a truly solid hardwood which will endure
household or industrial use over a lifetime, and this is why it
is always the primary choice for paint grade projects. Notice
the matching highly polished nickel rolling ladder hardware
and the door and drawer pulls. The customer decided to
conveniently hide away all electronic TV cable boxes and
wiring behind the lower cabinetry doors making this
entertainment center clutter free.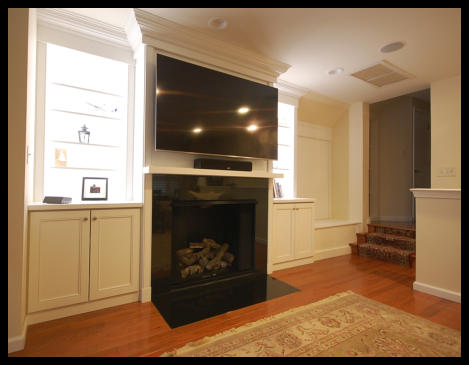 This contemporary home entertainment center is equipped
with only the best cabinet making construction materials.
Even though it's painted white, all the materials are made
from solid lumber core maple and veneer core maple. The
crown molding is 9 inches wide and is also made of solid
maple. Using maple wood is more economical for paint
projects, and it is a great wood material for paint absorption
making it widely used within professional cabinet makers.
Now note the ample storage room behind the mission-style
cabinetry doors and bookcases and not to mention it also
has a bench seat with hide away storage underneath
located on the far right-hand side of the unit. The fireplace
hearth and upper sides and top are wrapped with beautiful
black on black granite making this entertainment center a
warm complement to this attractive condo.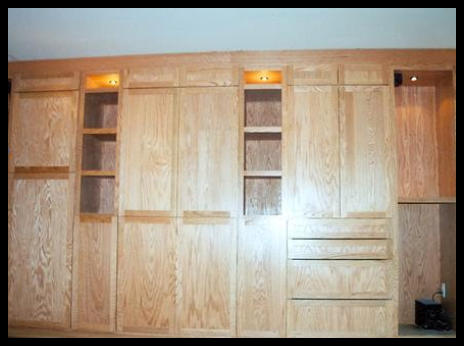 This oak built-in storage cabinet was built in seven pieces
at my woodworking shop and assembled at the project
site. Before this built-in storage cabinet began its
manufacturing stages, exact measurements were taken so
that the built-in cabinetry would fit together perfectly and
by adding a small amount of filler pieces on both sides for
that tight fitting look the customer specified. The bottom
of the built-in cabinetry has a 4 inch toe-kick setback and a
flat header molding at the top to tie the built-in cabinetry
to the ceiling. This custom built-in oak storage cabinet also
includes two different lighting groups on dedicated dimmer
switches along with three electrical outlets making this
custom built-in storage cabinet satisfying to the customer's
electrical needs.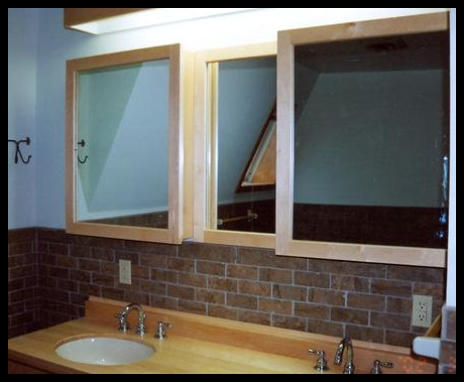 As seen here in this picture both under mount sinks are
placed under the counter top which allows excess water and
spills to be swept easily into the sinks with the side of the
hand. This extra wide double bowl vanity came complete
with his and her's medicine cabinets and matching light bar,
completing this beautiful vanity outfit. The two medicine
cabinets on either side contains 3/8 inch tempered glass
shelving that are completely adjustable. The mirror in the
middle was fixed against the wall and purposely setback to
add dimension to this stylish and beautiful vanity outfit. All
the wood making up this gorgeous bathroom vanity,
medicine cabinet and light bar are made from high quality
Hard Rock Maple and finished with conversion varnish.
Water based conversion varnish is a high quality moisture
resistant finish that is designed for bathroom and kitchen
areas.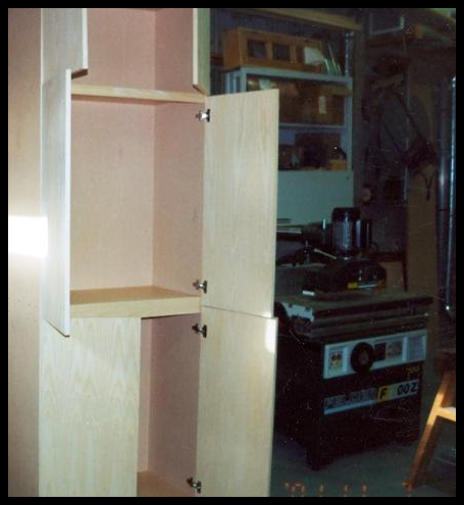 This custom built-in entertainment center was for a Queen's
Village, Center City Philadelphia customers who were having
their master bed-room completely renovated. The customer
and their contractor supplied me with a specific design and
measurements so that the built-in cabinet would be fitted in
the un-drywalled 2"x4" framing and then by fitting drywall
sheets around the built-in giving it that perfect finished look.
The two shelves are fixed in place for this particular unit as
they are specifically set apart for the customers pre-sized
entertainment equipment and wiring connections. The
customer request European self closing hidden hinges for
this custom built-in entertainment center as they enhance a
more finished look. As shown in the right hand picture,
when the flush doors are fully closed, all wood grains line up
perfectly. The doors are easily opened by touch latches
eliminating the use of door handles. As shown, this built-in
entertainment center was left unfinished as their paint
finishing contractor wanted to control its texture and finish
with other woodworking materials throughout the bedroom
renovation project

.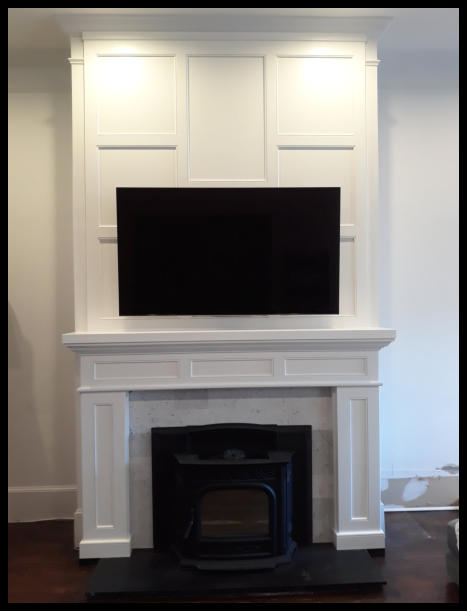 This proud and stunting fireplace surround with extra thick
mental, and its towering inlaid upper mission-style panel is
the showcase of this beautiful Center City Philadelphia
condo. Maria, the homeowner supplied me with a picture
and wanted to know if I could duplicate and make it work in
her unusually 12 feet high ceiling condo living room. Even
though it is a white paint project we needed to use and only
use hard-rock maple because of its superior long-lasting
qualities and upholding a beautiful and lasting paint finish.
Since the customer was leaning towards a mission-style
look, I suggested making a sample mission style piece but
with an inner rounded beading. We proceeded and
duplicated her dream fireplace surround project and only
used the highest quality USA and Canadian solid lumber
core maple materials and created this magnificent brilliant
white fireplace surround. Maria, usually works at home
and is thrilled over the top knowing that she will enjoy her
beautiful fireplace surround and her forced hot air pellet
stove keeping her warm during those cold winter days.
Video Link
Exquisite and masterfully built secretary southern cherry
wood cabinetry by Cabinet Makers Custom Built-in
Bookcases. The Philadelphia Old City customers cleverly
designed an elegant cherry wood secretary style bookcase
with lots of cabinetry storage and drawers while displaying
ample bookshelf space with elegant glass cabinetry doors.
The southern Cherry wood was finished with a hand rubbed
oil wood stain and protected with a high resin lacquer that
will preserve these high quality cabinetry products for a
lifetime.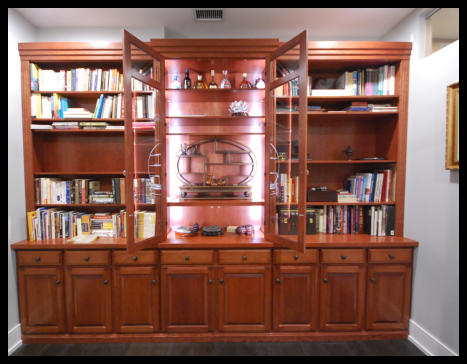 These beautiful twin maple cabinets with the black on
black finishes are well suited for this beautiful Old City
Philadelphia home. The customer supplied the designs
and knew exactly what she wanted when customizing the
over wine cooler cabinet with magnetic door contact on
and off switch for the interior lighting. The right-hand
picture shows its matching the beautiful cabinet with
lower storage, 1 1/2'' solid maple wood tabletop, beautiful
clear 1/4'' inset door glass and of course 1/2'' glass shelving
with bullnose edging. The cabinet also is treated with high
hat lighting that will illuminate the entire interior of the
cabinet. The door handles are exquisite arch design and
made of highly polished stainless

steel which
complements these elegant bookcases entirely.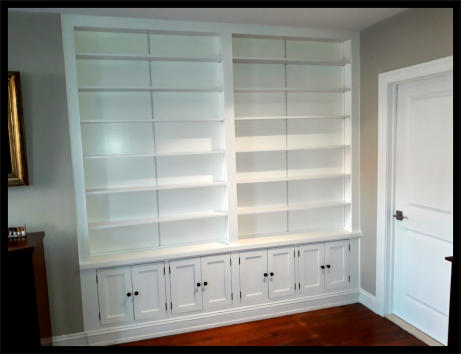 This beautiful white twin built-in bookcase was perfectly
built and seamlessly installed in this beautiful Brownstone
South Philadelphia home. The customer has an existing
bookcase to the left outside of the picture and they
wanted it duplicated exactly to the tee. The lower portion
of the bookcase has 8 inset shaker-style doors with a 1 1/2
inch thick solid maple tabletop above. The twin bookcases
are equipped with adjustable 3/4'' shelving supported by
3/4'' heavy wall construction for superior strength and a
1/2'' backing board which allows for ridge construction.
The mouldings are 3 1/2'' solid maple and while
complementing the same character of their neighboring
shaker style door frames. The customers were thrilled
over the top as the duplicating character to its neighboring
bookcase was perfectly matched right down to aligning the
bookshelf locations together.
This beautiful living room sleek and contemporary
entertainment center with its perfectly built-in structure is
well-suited for this Haverford, PA home. The customer
came up with a beautiful design with fixed shelving and the
TV sitting 12 inches from the floor viewing comfortably in
line with their low seat couch. There is an access panel
drop-down door just under the TV for keeping certain items
out of sight while boasting beautiful open-spaced shelving
for pictures, books and etc... This entertainment center is 10
feet wide and extends past the adjacent wall behind with an
additional backside bookcase with a 1/4 inch plate glass
door for storage of their special books. The entire
entertainment center is 8 feet high and tight to the ceiling
with a 5-inch plate board creating a beautiful and well-
suited built-in entertainment center look.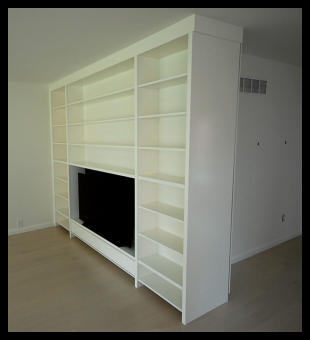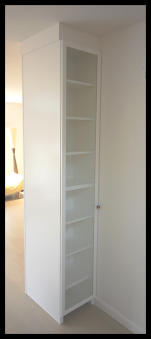 These absolutely stunting double panel "INSET" cabinetry
doors with inter beat moulding really sent this design over
the top and made the customers fall absolutely in love with
it, therefore, bringing their dream cabinetry into reality. The
inset doors and drawers are in perfect mission-style
character and made this particular built-in cabinetry unit a
perfect fit for this historical Glenside home. The upper
open-face bookcase casework sits securely on its 1-1/2 inch
thick tabletop and is surrounded by its beautiful wide
vertical mouldings and the face header proudly seated to
the ceiling. Behind the doors are two adjustable shelvings
giving ample storage space while allowing 20-inch wide
access behind each opened door. This custom build-
in mission-style cabinet is 96''X96''X20'' making it a grand
armoire to the master bedroom of this beautiful well
designed home. The elegant black door and drawer handles
create a beautiful finishing touch to the rockhard Extra
White paint finish.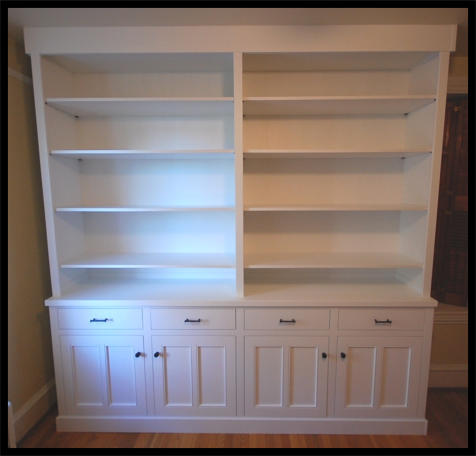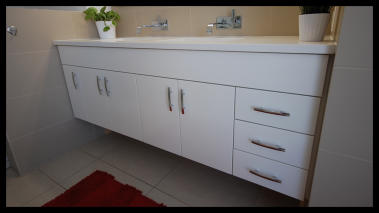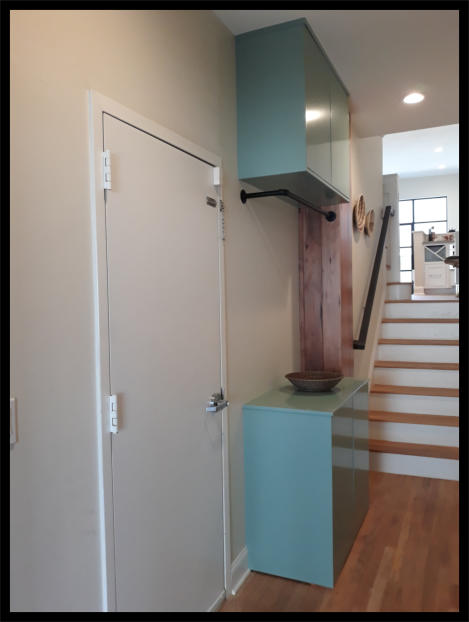 This beautiful armoire with an open coat rod is exactly what
the Center City Philadelphia customers wanted.

The
cabinetry doors are frameless inset style which allows
maximum storage exactly where it's needed right next to
the front entry and garage. The lower cabinet is situated for
shoes and boots with adjustable shelving. The upper
cabinet also has adjustable shelving for the little needed
things. This cabinetry is situated under a 9-foot ceiling
which allows ample space for winter coats or even
umbrellas. The coat rod is attached to hardwood cherry
that extends full length from floor to ceiling and creates that
elegant character look for this beautiful front door armoire.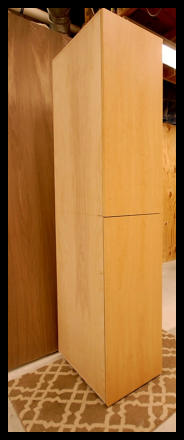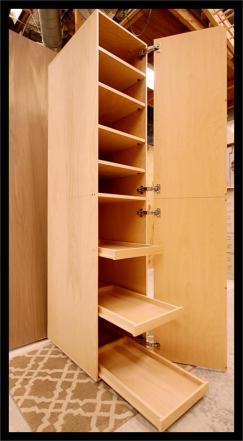 Here is a very unique bathroom cabinetry build because the
drawers are designed to travel on old style Maple hardwood
drawer glides. The particular customers that this cabinet
was built for are truly pleased with its uniqueness and old
woodworker's craftsman style of cabinetry woodworking.
The upper shelving is adjustable with stop blocks so that
they can not be mistakenly pulled out. The doors are maple
twin full overlay with zero protrusion hinges which means
that the doors when opening will be completely out of the
way for the drawer travel. The door is also on self-closing-
soft closing hidden hinges that add to this elegant
bathroom storage cabinet.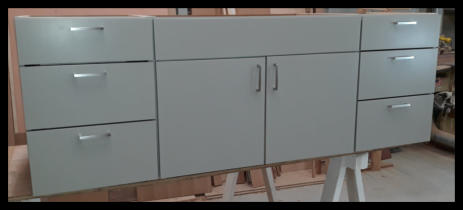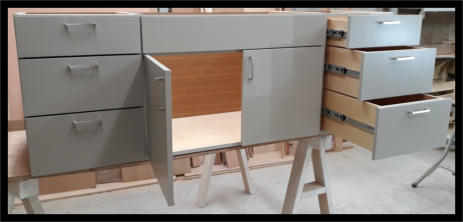 This gorgeous bathroom vanity was built for a customer
that was having their existing bathroom upgraded. I built
the vanity in three individual box sections so that their
plumber could easily fit those sections between the existing
walls. The entire face of the bathroom vanity cabinet is full
overlay utilizing mechanical self-closing soft-closing drawer
glides and door-hidden hinges. The customer pre-
purchased her desirable door handles and I installed them
prior to delivery. The inside drawer height boxes were
specifically designed as per the customer's instructions for
certain items that she wanted to store in them. The
customer is absolutely thrilled over the top with her new
custom-built and paint-matching design for her new
bathroom upgrade.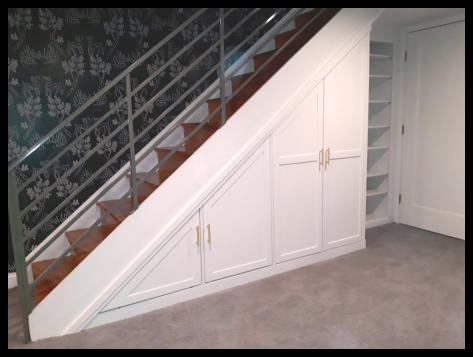 The Philadelphia Fishtown customer contacted me with her
idea and inspiration picture and wanted to know if I could
duplicate, build and install the basement cabinetry that you
see in this picture. I made a template of the angled area
under the staircase and went back to my shop and built the
customer these beautiful mission doors with cabinetry made
of solid lumber core Hard Rock Maple and half-inch thick
center panels. Behind the doors are lots of storage and
shelves; we even added a beautiful bookcase with adjustable
shelving to the right. The entire project was finished with a
rockhard brilliant white paint that will stand the test of time
for a lifetime. The customer and I worked very hard with
phone conferences and visits to the project site to ensure
that this project came out exactly as the customer
envisioned. Needless to say, the customer is thrilled over
the top and completely happy with the outcome.
I want to include these three independent standalone
against wall bookcases that were designed and built for an
elderly couple in Jenkintown, PA. They are retired
professionals who have traveled the world and they have
many books that they wanted to place on beautiful book
shelving. These book shelvings are made from solid Maple
veneer core and finished with three coats of extra white
furniture quality paint. They include adjustable shelving,
all sides finished, step-revealed fronts with grooved
intersections and of course, 3/4'' beautiful glossy tabletops.
They were also custom sized for specific walls in their
condo. Projects like these stand- against-wall bookcases
that are cheaper in price because they are not built-ins, just
put in place.
Picture #1: 96''x30''x11''
'' '' #2: 54''x30''x11''
'' '' #3: 59''x75''x11''