Cabinet Makers Custom Built-in Bookcases
SERVING
The Entire Philadelphia and south new
jersey Counties
INTEGRITY, RELIABILITY AND CUSTOMER SATISFACTION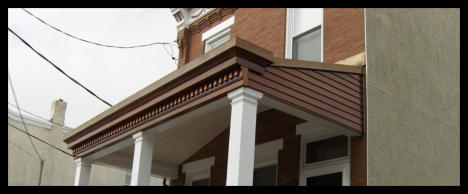 This Honduran mahogany porch restoration project shown
here is a re-creation from the original porch architecture
that was created for this house when it was built in the early
1900s. All the Honduran mahogany lumber shown here for
this restoration project was selected by me from an exotic
hardwood lumberyard in rough form and then milled and
shaped at my cabinet making shop to the well designed
finished product you see here. Honduran mahogany was
selected for this restoration project, because of its deep
warm reddish color that blends so beautifully with the
homes reddish brick work. The elegant transformation of
this house and the well thought out restoration plan went
beyond anyone's expectations during the design and
manufacturing stages.
Now that I had the necessary notes and some of the original
wood parts in my cabinet making shop, I could now start
duplicating the necessary components that were going to
make up this newly restored restoration porch project. Each
board that makes up the shiplap siding, was milled with an
upper and lower shiplap joints or groove which allows for a
weather tight fit that was so characteristic of the carpenter's
work at that earlier time. The attractive rich rosy red
Honduran mahogany that was selected for this restoration
porch project, was selected without any knots while keeping
in mind the true straight vertical grains that will boost this
homes value for many years to come. The porch columns
for this restoration project are made of fiberglass and
painted with a brilliant white acrylic finish that will
complement this porch project for many years to come.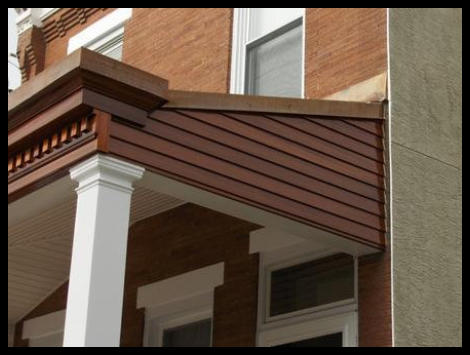 I decided to encapsulate the necessary telephone wire seen
here under the side dental work lower panel leaving an
unobstructed architecture for this absolutely stunning
restoration porch project. Notice the polished copper metal
work that crowns this one-of-a-kind restoration project.
Soon the copper roof capping will change color to an
expected green patina creating an antique look for the years
to come. The 90° corner angle shown here was easily
achieved as the two sides meet with identical profiles. As
you will see in the next picture of this porch restoration
project, the 90° corner angle on the opposite side was not so
easily executed as individual profiles would have to meet
and blend evenly together in an acceptably fashion.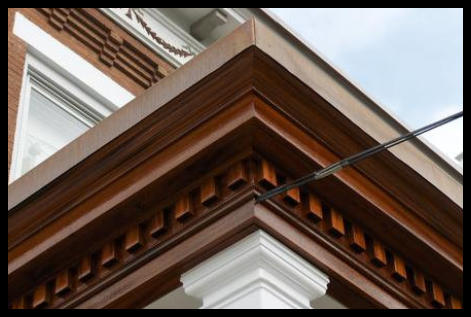 There are two major wood sections here that allow the two
opposite profile sides to transition together so perfectly for
this restoration project. The lower section's dental molding
and it's bottom plank are joined to the bordering shiplap
siding using a center key block. This was the easy part. The
upper cornice front extends 4 inches over the dental
molding while allowing the adjacent side to lay flat on its
ship lap siding and holding the upper 4 inch crown molding
to intrude into the shiplap field. This type of construction is
consistent with Roman architecture that surrounds our
societies every day and was incorporated into this
restoration project.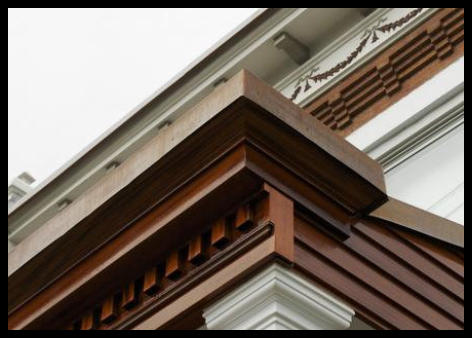 This porch restoration project truly exceeded everyone's
expectations and imagination during the design and
construction stages. Because the Honduran mahogany was
select for this restoration project the homeowner will never
worry about the wood losing its natural rich rosy red color
due to sunlight, UV rays or other exterior elements. As long
as the homeowners uses the necessary preventive
maintenance on this exquisite porch restoration project
they can expect their investment to always look as pristine
as shown in these pictures. Every wood part that made up
this attractive porch restoration project was completely
sanded, dusted and cleaned to allow for the three coats of
satin marine finishing varnish that will enhance this porch
renovation project for many years to come.
Mission Style Kitchen Cabinetry Refacing.
Beautiful, warm and inviting, mission style kitchen cabinetry
re-facing. These magnificent white oak kitchen cabinetry
doors were professionally manufactured and installed by
cabinet makers custom built-in bookcases. The homeowner
of this beautiful kitchen decided that she can save money by
doing a kitchen re-facing of her existing cabinetry. See for
yourself the creative results and how the customer used her
own imagination in color coordinating these beautiful
mission style cabinetry fronts and creating the illusion of
brand-new kitchen.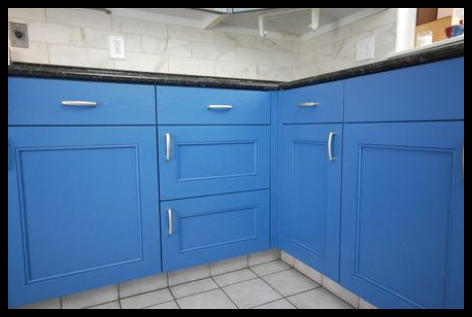 Kitchen cabinetry face lifting is an effective way of making
your kitchen look brand-new. Give us a call here at Cabinet
Makers Custom Built-in Bookcases and we would be happy
to sit down with you and your family for free in-home
consultation.
Kitchen Face Lift Video Link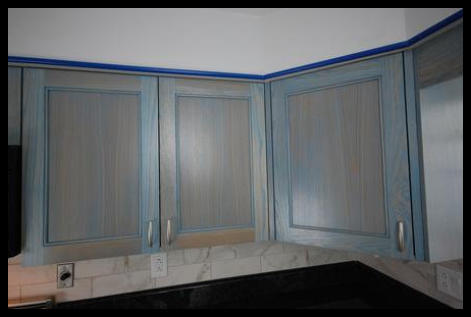 A Queen's Village Center City, Philadelphia customer
contacted me for some wood window shutter renovation
work that were in desperate need of replacement. The
customer was undergoing a Pella wood window renovation
project and he wanted to restore the front of his property to
its original condition with these original looking wood
window shutters. New custom hardware was ordered and
installed with these fully operational wood window shutters,
giving them the true original look the customer was after
and completing his wood window restoration project.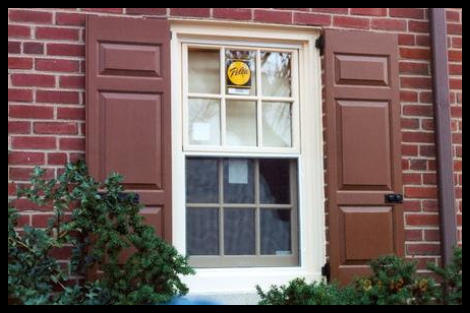 But, before the new hardware could be mounted to these
handsome wood window shutters, several coats of primer
and paint would need to applied. Now that these wood
window shutters underwent the proper paint finishing
process the hardware was installed over the paint keeping
unwanted water and moisture out and from under. This
wood window shutter restoration project, is just one of the
many examples producing the magnificent results that can
be obtained when a homeowner chooses to use real wood
for their next home renovation project.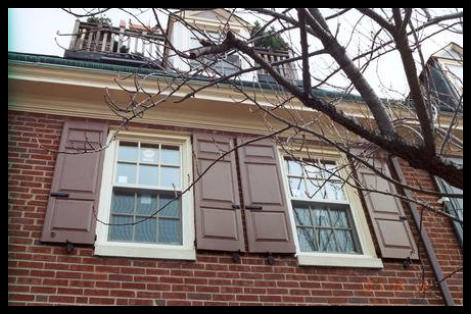 Exterior woodworking quality demands knowledge, experience and
conclusion!!!
Home Restorations Old City Philadelphia Style
Copyright 2023 By Cabinet Makers Custom Built-in Bookcases